This is one of the most asked questions by beginners when they start to learn Linux. People are always recommending their personal favorite. You may have heard a lot of different answers and options. But what is the real best Linux distro for beginners?
After reading through this blog post you will know the answer, no matter what your requirements are, trust me! Here is my recommendation for all beginners who want easy and seamless get started with Linux.
---
1. Why is it so hard to figure out?
To be fair, there is not the one and only answer that fits perfectly for everyone. But there are a few Linux distros existing that are more beginner-friendly than others. Which one of these fits best for you depends on your intentions and what your goals are.
That is why it can be very hard to figure out the best Linux distro for YOU. People have different skills, different needs, and almost infinite different personal tastes. A perfect Linux distro for me might not fit for you as well. It is also hard for beginners to figure out what they should focus on. Because there are so many Linux distros that came up in the last past years, the information is overwhelming. And only a few of them are really worth noticing.
Almost six hundred Linux distros are existing, five hundred are in active development

https://en.wikipedia.org/wiki/Linux_distribution
---
2. Know your intentions and goals
Before I can answer your question, you need to know what your intentions and your goals are. It may sound curious but knowing your background is really crucial here. Are you personally interested as a hobbyist? Or do you want to learn Linux because you want to get a job in the IT industry? Do you just want a replacement for your Windows because you are sick of Microsoft? As you can imagine there are so different intentions. Please ask yourself the question: Are you willing to learn and dive deep into the Linux world? Then you won't be happy with a Linux distro that tries to be just an open-source Windows copy. And yes, there are a lot of distro's that try to do this exactly.
But don't worry, I will cover these as well. There is nothing wrong with just install something different than Windows although you don't want to know all the details. That being said, everyone starts at zero!
Now, let's have a look at the Linux distros I have worked with in the last past years. And let me show you how they are recognized in the IT industry. I will try to point out the pros and cons of each Linux distro. Please note, that I only focus on the best Linux distro for beginners! There are, of course, a lot more good Linux distro's out there. But I would recommend most of them only for an intermediate or an advanced Linux user.
---
3. Best Linux distros for a simple Windows replacement
I would call Linux Mint as an exact replacement for Windows 7. If you don't like Windows 10 and search for an open-source replacement, this is the way to go. Why? Because Linux Mint is exactly designed to be like this. If you install and start Linux Mint your first impression will be: "Hey, this actually looks like Windows 7".
It comes with all the necessary tools for a desktop environment. Firefox, LibreOffice, an audio player, and many more applications are pre-installed. Because it is based on Ubuntu, you have a lot of applications that can be installed via the package manager. Linux Mint has three different desktop environments "Cinnamon", "MATE" and "XFCE". They are all slightly different, but as a beginner, I wouldn't call the decision as game-changing.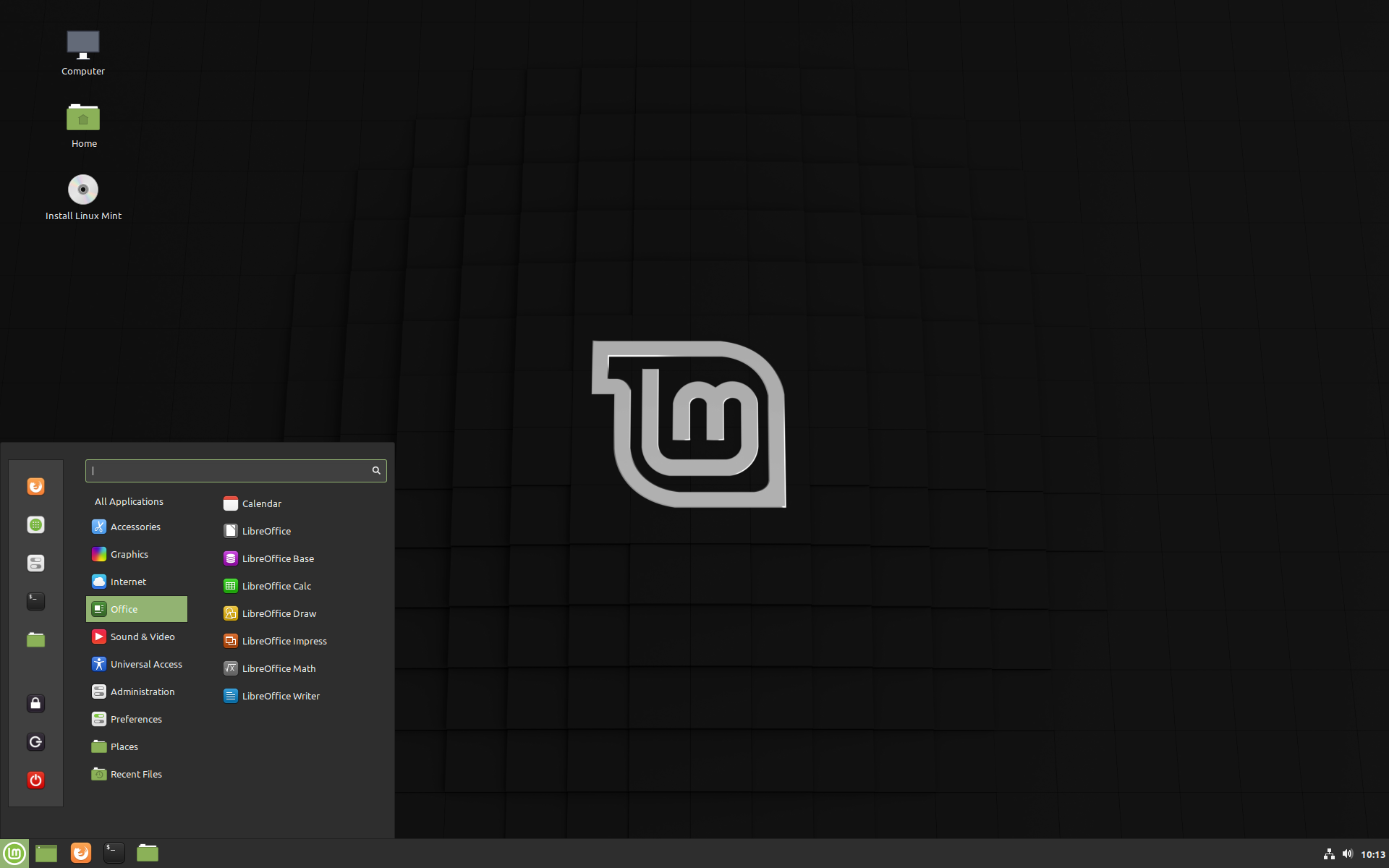 Pros: It works out of the box with many pre-installed applications and is very easy to use. It is very easy for Windows users to get started.
Cons: No Device Manager. Linux Mint is based on Ubuntu but might be a few versions behind the official Ubuntu release.
When you don't like Windows at all, but you want to have a "Mac OS"-like Linux, Elementary OS will be your favorite. Just like Linux Mint, it is also based on Ubuntu. You will find the same amount of applications that can be easily installed via the package manager.
But the desktop is designed to look like a Mac OS. Some people even will not notice the difference.
Pros: It works out of the box with many pre-installed applications and is very easy to use. It is very easy for Mac OS users to get started.
Cons: Elementary OS is based on Ubuntu but might be a few versions behind the official Ubuntu release.
4. Best Linux distros for beginners in the IT industry
Now, if you want to start in the IT industry, you should look at other Linux distros as well. Don't get me wrong, Linux Mint and Elementary OS both are a perfect start. And they are good at desktop environments. But if you are working in the IT industry you won't see them very often.
Therefore, I want to show you two examples that are a widely used IT industry standard. You will find them in almost every big company. However, I only picked those who try to be beginner-friendly! If you get started with these Linux distros you will benefit from the experience in your IT job.
They are both excellent as Linux distros for servers. But they also have all the necessary desktop versions with all applications pre-installed you will need. This is why they are so popular and highly used.
Ubuntu is one of the most popular Linux distros, not just in the IT industry. Linux was never seen as a user-friendly operating system before. Ubuntu was one of the first Linux distros that tried to change that. And it had success! It had a tremendously grow over the last past years. And it is one of the best Linux distro for beginners!
Ubuntu is available for desktop environments, servers and also mobile devices. It is based on Debian, one of the oldest Linux distros. Debian is known for its stability but new releases and changes take ages. Ubuntu is a bit less restrictive and tries to focus on user-friendly.
It is owned by Canonical, a company founded by a South African entrepreneur. Ubuntu laid the foundation of Canonical's success in the IT industry. This is why Canonical is an important player in the IT industry. If you want to work as an IT professional you should at least have a solid understanding of the basics.
Pros: Ubuntu is easy and user-friendly. Very flexible as a desktop environment and a server solution as well. It has a great package manager with countless available applications.
Cons: Ubuntu still has no rolling release model.
Recommending CentOS as a beginner Linux distro might a bit ambitious. It is no distro that takes you by the hand. But it's definitely an important player in the IT industry because it's a deviate of Red Hat Enterprise Linux (RHEL).
However, I would still recommend it to beginners who are willing to learn and put some effort into it. You find a lot of resources to learn and it has a good package manager where you can install all necessary applications. It is also extremely stable and fast. This makes it a perfect server operating system for those who need a stable system more than new features. Of course, this also means that you don't have all the newer versions available.
Without some basic knowledge of Linux, it can be tricky. You are not afraid of it? Perfect, then give CentOS a try. You will definitely benefit from experience when you're dealing with RHEL.
Pros: Very stable, fast and lightweight Linux distro.
Cons: You don't always get the newest versions of applications. It can be more tricky for beginners.
5. Best Linux distros for hobbyist's
If you are searching for the best Linux distro for beginners and you are a hobbyist, you can also pick both of the recommendations for beginners in the IT industry as well! Ubuntu and CentOS both come with all the necessary desktops and applications you will need. But I just want to show you another Linux distro that is not so widely used in the IT industry. It's one of my favorites and also very beginner-friendly.
Manjaro is a deviate of Arch Linux. Arch Linux has a very high standing in the Linux community, but it is completely user-unfriendly! Don't get me wrong, it is very well documented. But I won't ever try it as a beginner. Manjaro instead tries to combine all benefits of Arch Linux with a user-friendly installation process and management.
It is available with different pre-installed desktop environments. One of the best advantages that come from its big brother Arch Linux is the rolling releases and package manager Pacman. Pacman has a lot of applications available, but the best feature is the "Arch User Repository". This allows the community to create own packages. It is extremely likely that if you need to install an application, someone else of the community has crafted a package for it. You are even able to install the latest versions of applications with it.
You won't see Manjaro or even Arch Linux as a server distribution very often. But I know many people who are Arch Linux fans and therefore it is well known in the IT industry. If you need a beginner-friendly version of Arch Linux, Manjaro is the way to go!
Pros: Very user-friendly installation process. Always up-to-date software packages with "Arch User Repository"
Cons: Software packages can sometimes contain unstable versions.
---
6. Summary
I hope you got some clarity about which is the best Linux distro for beginners. Also, keep in mind that you are not married to any of them. I've tried so many different distros over the last past years. And I switched my personal favorites many times.
The best recommendation I can give you is: try it out yourself! If you have trouble you might look up my other guides and how-tos. Don't be afraid of complex Linux distros. Get to know the basics and then you can try out a bit more advanced ones as well.
---
Learn more about Linux